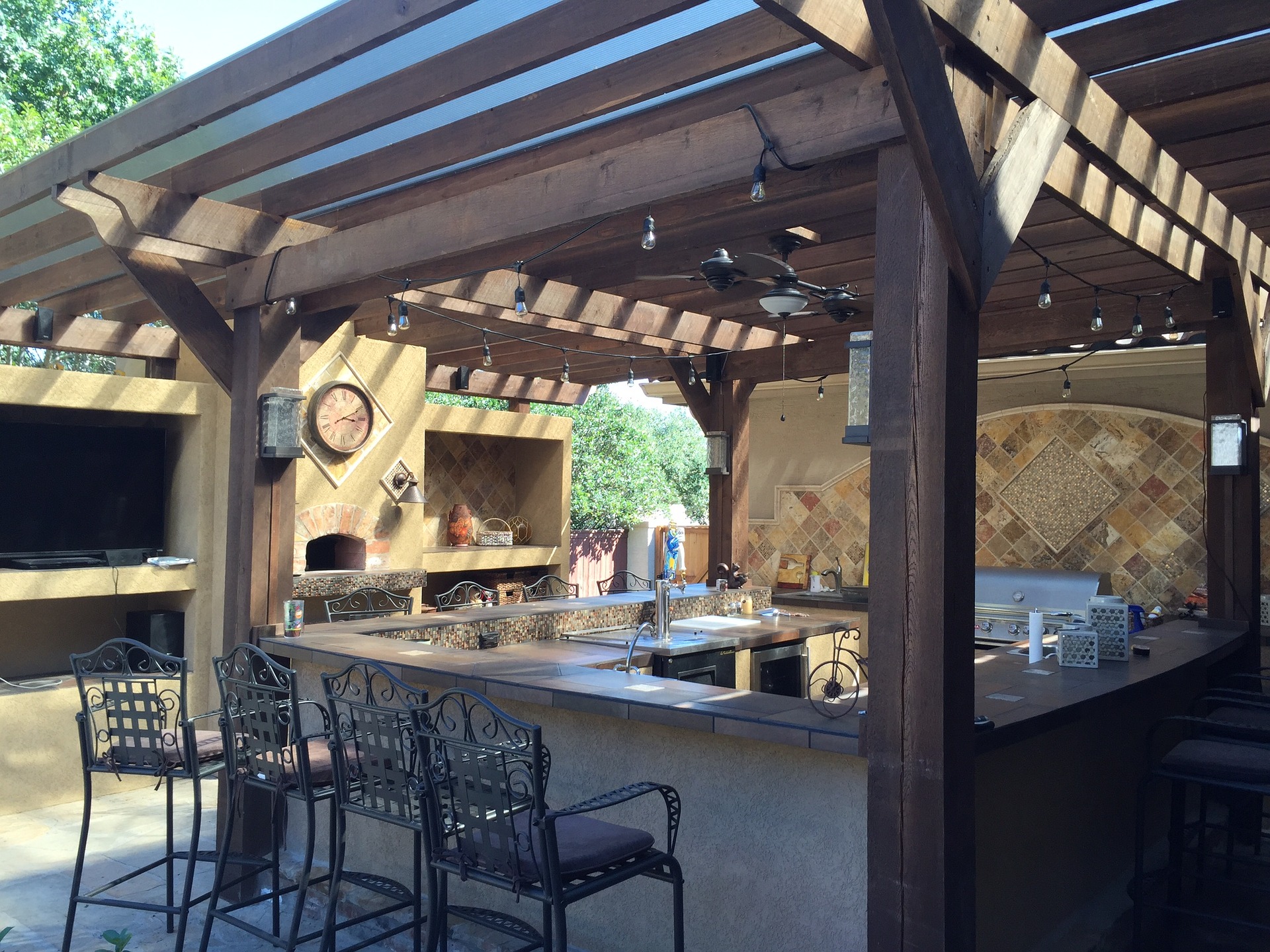 Summer is just around the corner and there is no better way to prepare than indulging in some exciting backyard inspiration. Your outdoor living space can be more than just a place to spend time with family and friends; it can be your sanctuary as well. This year is the time to turn your backyard into your own personal vacation spot.
If you don't have a tub already, consider adding a sunken hot tub into your backyard with a deck of natural stone, tall grasses, and outdoor curtains for privacy.  Include pillar candles and some twinkling lights for ambiance.
If you entertain a lot, a kitchen is the ideal outdoor space for summer entertaining. Bring out your inner Bobby Flay with a cooking station that includes a high-end grill, refrigerator, wine chiller, and elegant washbasin. Round this all out with a concrete counter, bluestone tile floor, and stainless steel.
Nothing says summer like outdoor movies and your own personal drive-in. All you need is a projector to watch your favorite movie, some dangling lights in the trees, blankets, and pillows. You could also watch it from a hanging bench or my personal favorite, a floating bed.
Gardening can go beyond being a relaxing pastime; consider growing your favorite foods and join the "farm to table" movement. In 2012, people spent $1.2 billion more dollars on food gardening than they did flower gardening. An easy way to incorporate this is to use blueberries as foundation plants or other fruits, such as raspberries. If you already have flowers planted, tuck a pepper plant or basil in between your flowers.
A reading nook outdoors is the perfect way to get lost in your favorite book or magazine. You can convert a small shed into a private reading spot, an arbor with a bench surrounded by clematis, or a relaxing hammock. These hideaway spots are what turn your home into a staycation resort.
Is your ideal summer situated by a campfire? Build a fire pit and enjoy s'mores in the comfort of your backyard. Use an old wine barrel, bricks, stones, or a concrete bowl. A lowered fire pit is great if you want to use sand for a beachy atmosphere. On a warm summer night a campfire sets just the right mood for outdoor fun.
Having a water feature in your backyard instantly creates a Zen space.  They can deflect unwanted attention by drowning out unwelcome sounds. Add a fountain, pondless waterfall, or small stream to complete the vibe.  If you want a smaller commitment, a shallow recirculating foundation will also do the trick. All you need is a simple foundation and recirculating pump.
To enhance your space with little to no cost, add dangling vines or twinkling lights as a finishing touch to create your backyard haven. Time is something there never seems to be enough of, but these low-maintenance enhancements will enable you to spend that time in your very own outdoor living space.
For more outdoor living ideas, follow our Pinterest board.
For more information on Windermere Evergreen, please contact us here.
Posted on March 4, 2018 at 12:58 pm
Windermere Evergreen
Category:
Living
Tagged

Breakfast Nook, Built-Ins, buyers, design, DIY, Eating Space / Kitchen, home, home buyer, home owner, interior design, Kitchen Island
"New year, new me" is so 2017. We thought we would change things up a bit because frankly, 2018 deserves better and so do you. This is the year to be bold. In fact, if there was a color named "bold" we would recommend it for your kitchen remodel. Once a month we will be showing you a different way to go bold with your home. These will be easy, inexpensive changes to add character and life to various rooms and spaces.
Our first? Colorful, crafty storage. Many New Year's Resolutions include decluttering your life. Not only is this great for your house, but it can also be very therapeutic. However, instead of putting the same old containers or storage back on your shelves, opt for a modification. For those of you who are more DIY, try painting the lids of mason jars your favorite bright color. If you are more of an online shopper than DIY queen, we found some storage options that are cute and simple: These are the perfect solution to keeping your kids playroom tidy, while still feeling fun friendly. Try these for your office space that feels a little dull and in need of inspiration. If you'd rather do something more permanent, paint the back wall of your storage shelves, it adds dimension and character. If you don't want to permanently color your bookcases, try fabric or wallpaper. If you choose wallpaper, tie in the color with the items that are filling the shelves (hint: match to your mason jars).
We've mandated that 2018 is the year to be bold, but to also have fun. So start by adding some color to otherwise boring old storage spaces! If you go bold with your home each month this year, you can bet that the ending of 2018 will be sweeter than last.
For more information on Windermere Evergreen and our team, please contact us here.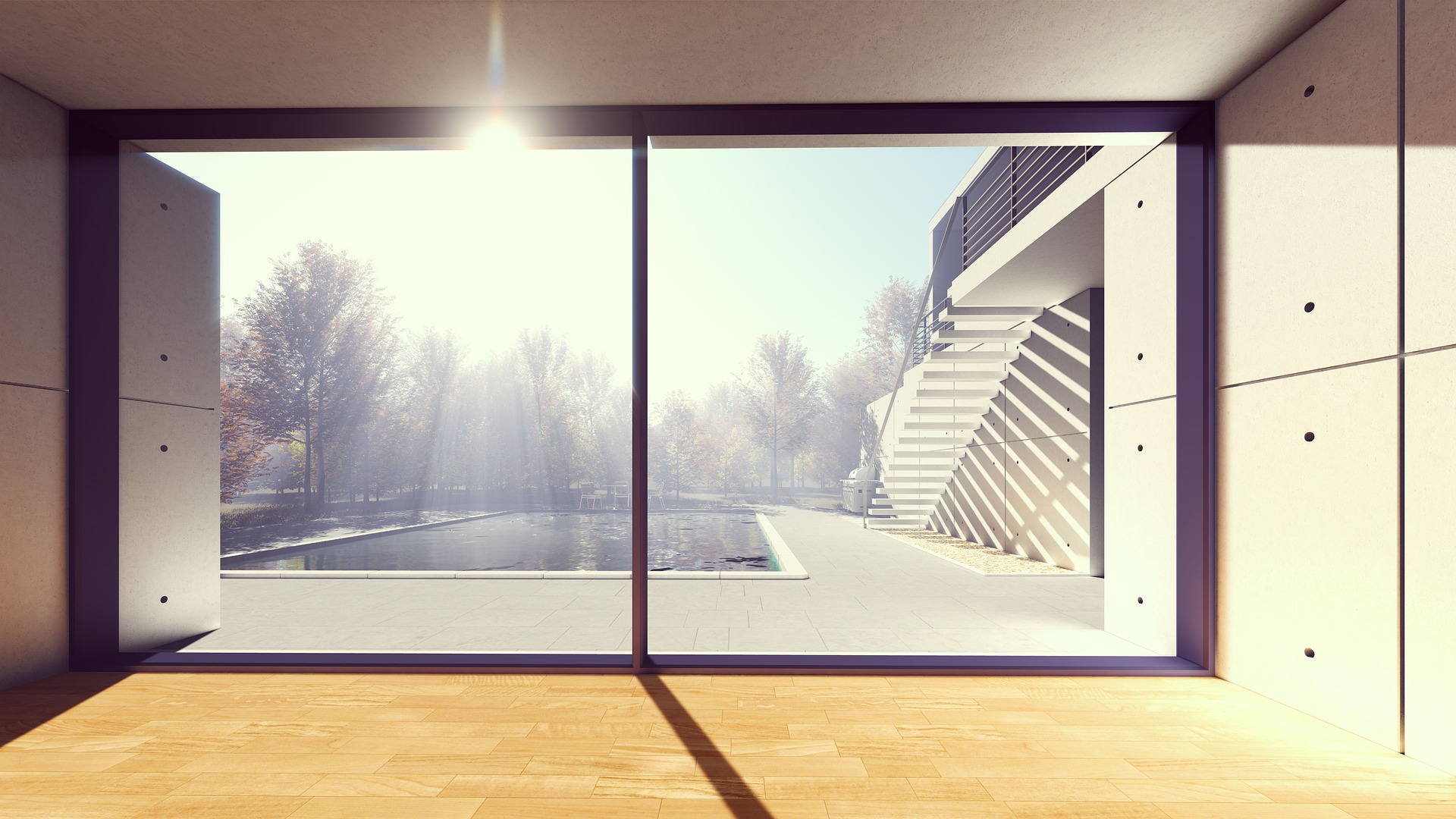 So what's in?
Bringing the outdoors inside. Do this with larger glass windows or folding glass doors.
Minerals as hardware.
Large geometric tiles on floors.
Mixing metals, such as brass and gold.
Interior paint color – Grey still has a heavy influence, but it is warming up a bit and getting softened with a stone color. Of course, the Pantone colors of the year are playing a big part with light blues and soft pinks.
Wallpaper – Always a great place to get a little crazy. Textural, geometric patterns are so in.
Carpet – 2016 is about modernizing the traditional themes. People are doing geometric shapes and soft grays. However, hardwood floors continue to be on trend. It's not uncommon for someone to do hardwood floors throughout the whole home, others are even putting wood on the walls. Fun fact: When the economy is good, floor color tends to lighten up, and when economy is bad, floors tend to darken.
Tile– Geometry, 3D textures, and extra extra extra-large tiles. Marble counter tops are still big and concrete is becoming more common in custom homes.
Cabinets – Many are painting them white with muted tones or contrasting wood tones. Mix and match. Get venturesome, but not reckless.
Lighting – Gold has come back in (don't worry, not the gold of the 80's). These are different from the pendants of last year; they're brass and gold statement pieces. Remember: lighting is the jewelry of the home.
Plumbing – Plumbing is functional art. Brass, soft gold, and black (faucet) statement pieces are where it's at.
We also learned that home owners are going bonkers for statement dining rooms. They love having a bold, fun place to entertain their guests. These are tying into a theme, which is: Nature luxe. Like we said earlier, it's all about bringing the outside in. Yes, we're seeing a lot of brave ideas and statement pieces going on, but it's important to be subtle and do it in a tasteful way.
Gelotte Hommas Architecture kept the trend going with outdoor living. Seattleites think our climate is not the greatest for outdoor spaces, but according to Gelotte, with our mild winters and not-too-hot summers, we actually have the ideal climate for outdoor living… who knew! The most important thing to know about outdoor living is that it needs to flow from the inside to the outside. The space doesn't need to be huge; a good rule of thumb is having your outdoor space roughly the size of your kitchen.
What's being built? Modern, contemporary homes are still very much in demand. However, contextualizing a home into a neighborhood is really important so it doesn't stand out too much. It's about appropriate scale and size.
Multi-gen living is on the rise. Homes are being built to accommodate extended family which usually involves having an in-law suite. Also, bonus rooms are being made into living spaces.
When it comes to thinking green, most custom home clients are concerned with energy consumption, so they opt to get solar panels or geothermal heating.
That's a wrap for the latest trends! How are you going to incorporate them in your home?
For more information on Windermere Evergreen and our team, please contact us here.