Posted in Living by John Trupin
None of us want to admit it, but Winter is Coming. The new season of Game of Thrones might not be until 2019, but your home will need preparation before then. As the days shorten, you can mitigate many mid-winter headaches with some preemptive prep. Proper weatherizing can help protect your investment from preventable damage, save money on energy costs, and, most importantly, keep your home safe and warm for you and your loved ones throughout the winter season. Here is a useful checklist to manage your weatherization project. Setting aside some time on a couple Sundays should be more than enough to knock this out:
Getting started: Check your toolbox to make sure you have all the materials you need for home maintenance in one place. This NY Times article provides a good list of the tools you'll really need to maintain your home. After your toolbox is put together, you can confidently begin the maintenance on your home.
Insulation: Insulating a home can reduce your energy bill by up to 50%. For the best results, your home should be properly insulated from the ceilings to the basement. By starting in your attic and progressively adding insulation to other areas of your home over time, you will avoid spending a large sum of money up-front.
Cracks & Leaks: Do a run-through of your entire house for cracks and leaks, from your roof to your baseboards. Winter weather is unpredictable. Whether your area gets rain, wind or snow, cracks in your house can lead to cold drafts or leaks that cause water damage. Depending on your house type, most cracks can be easily filled with supplies from your local hardware store in a do-it-yourself fashion. Use caulk to seal any cracks in the permanent building materials.
Windows & Doors: Another common place for heat leakage is in your windows and exterior doorways. Make sure seals are tight and no leaks exist. If you have storm windows, make sure you put them on before the cold season begins. Don't underestimate the difference some weatherstrips and a door sweep can provide in preventing drafts and keeping the heat in.
Rain Gutters: Clean your rain gutters of any debris. In colder climates, buildup will cause gutters to freeze with ice, crack and then leak. Once you have removed the residue from the drains, test them by running hose water to make sure cracks and leaks have not already formed. Even in warmer locales, the buildup can put undue stress on your roof and home.
Pipes: Pipes are a number one risk in winter climates. A burst pipe can become a winter disaster in a matter of seconds. Remember to turn off your exterior water source and take in your hose. Internally, wrapping your pipes is a recommended precaution to take.
Heating System: What's one thing gas fireplaces, wood burning stoves, and central air heating systems all have in common? They all need to be cleaned and maintained. Annual checks of are vital in avoiding dangers such as house fires. If you use an old-fashioned wood stove, make sure there are no leaks and that all soot build up or nests are removed. If a furnace is what you have, remember to change the filters as recommended or clean out your reusable filters.
Fireplace & Wood burning stoves: Make sure to have chimneys and air vents cleaned early in the season if you are planning on warming your home with a wood-burning source. When your fireplace is not in use make sure to close the damper, some resources estimate an open damper can increase energy consumption by as much as 30%.
Outside: As we mentioned before, make sure you bring your patio furniture inside (or cover) for the winter- but don't forget other, smaller items such as your tools, including a hose and small planting pot. Clear out any piles around the side of your house, checking for cracks as you go so to avoid providing shelter for unwelcome guests over the cold season. If your property has large trees check for loose branches and call someone to trim back any items that may fall in your yard, on your roof or even damage a window.
Emergency Kit: Lastly, make sure your emergency kit is up-to-date with provisions, batteries, fresh water, food for animals, entertainment for kids, etc- especially if you live in an area prone to power outages.
Posted on September 24, 2018 at 8:09 pm
Windermere Evergreen
Category:

Colorado Real Estate, Conifer Real Estate, Evergreen Real Estate, Home Maintenance, Kittredge Real Estate, Lakewood Real Estate, Living, Morrison Real Estate, Mountain Living, Pine Real Estate
By John Trupin
Much of the Western United States is grappling with the same issue this summer – the specter of smoke and fire from some of the largest forest fires in recent memory. For individuals, even the decreased air quality can be a threat, while the destruction that the fires themselves can wreak is devastating. Homeowners living near impacted areas are often left with an impossible choice – pack up what they can and evacuate or remain in a dangerous location and hope for the best. Thankfully, homes needn't be defenseless against the heat. To help fortify your home against damage stemming from fires, we brought together advice from a few experts.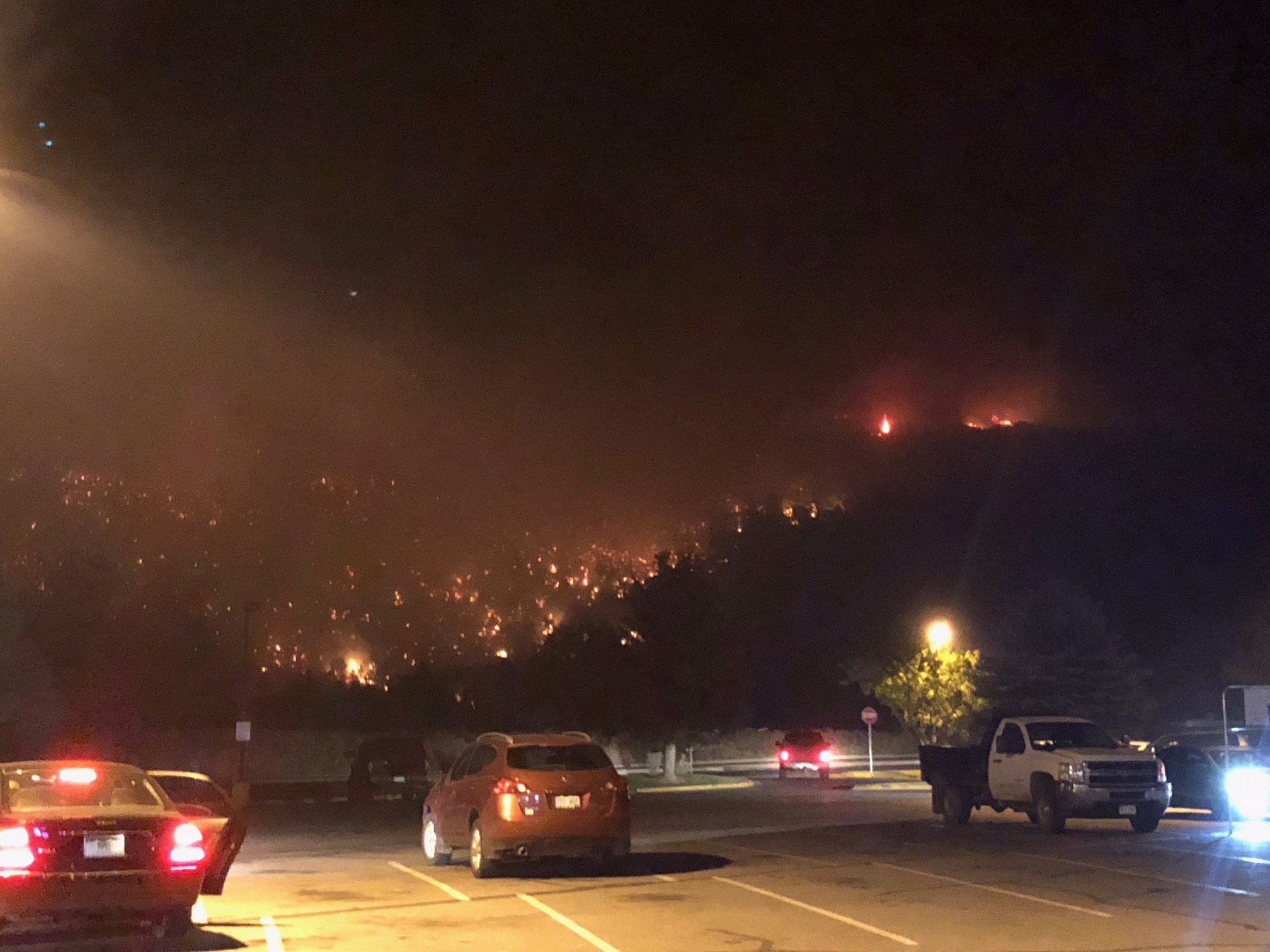 Opt for Flame-Resistant Walls and Roofing
It may be obvious but building a home out of non-flammable materials like brick, stucco, metal, or concrete is a key way to prevent a fire from taking hold initially.
The troublesome spaces tend to be beyond the core of the home. Decks, balconies, and overhangs all commonly include wooden components that can be easy points of egress for embers.
Replacing or coating these accent points with fireproof materials is a short-term expense that, much like insurance, prevents far greater financial strains in the future.
No Space is Too Small to Protect
Think that little vent in the attic is too small to be an issue? Think again!
Even vents built into kitchens and dryers should be considered as potential problem areas. Protecting these can allow continued circulation of air without incurring an excess fire risk.
Wire screens with 1/8th" to 1/4th" between screen bars are typically enough to keep treacherous embers from sneaking into your home.
Fortify Your Windows
The most vulnerable spots in most homes are glassy exterior windows. While their views are understandably gorgeous, they can be easy pressure points for fires to overpower.
If you have the means to replace single-plane glass with wire glass or fireproof safety glass, that's a worthwhile expense to ensure neither flames themselves nor radiant heat can shatter into your home.
Beyond simply upgrading the glass, installing retractable fireproof exterior panels is the safest route to fire protection. And don't forget your skylights!
Posted on September 14, 2018 at 6:41 pm
Windermere Evergreen
Category:

Colorado Real Estate, Conifer Real Estate, Evergreen Real Estate, Home Maintenance, Kittredge Real Estate, Lakewood Real Estate, Living, Morrison Real Estate, Mountain Living, Pine Real Estate
Tagged

Fire Mitigation, protecting your home, Wildfires
Posted in Living by John Trupin
The calendar may claim summer begins on June 21st, but for most of us, it's already fully in gear. Kids are getting out of school, families are making summer vacation plans, and backyard barbeques are on everyone's minds. This is also a great time of the year to get your house in order and ready for the summer season. The following are a handful of ideas and tips to help you with this process.
Outdoor Spaces
Gardening– It's not too late to start your garden!  If you're thinking of getting your green thumb engaged, just make sure you use starts because many summer harvest vegetables won't start from seed this late in the season.
Outdoor living– My home has an outdoor space that, like many, suffers in the grey of winter and the rainy spring. To get it properly in the summer spirit I need to get it prepped for hosting. This includes finding outdoor lighting options, updating the seating and cleaning up the barbeque.
BBQ- Make sure your grill is ready to go this season by making sure everything is clean and in working order before you fire it up. In the northwest that includes making sure the fuel lines are spider-web-free. Also, make sure you have propane or charcoal on hand for impromptu dinners.
Clean Windows- Now is a great time to clean your windows, inside and out. Sun shows more dirt and smudges.
Lawn care- Prepare your lawn for the months ahead. Depending on where you live this means different things. Check your sprinkler system to make sure it wasn't damaged over the winter; upgrade your lawn care to ensure fuller greens, check for and remove moss to prevent dead patches and start your weeding regimen.
Pool prep- If you have an outdoor pool get this ready for a summer season of fun in the sun, (unless you are lucky enough to enjoy your pool year-round). Same goes for hot-tubs. Make sure your equipment has been serviced, chemicals are available and your pool is clean and ready to use. OR, head to the local hardware store and buy your kiddie pool now before they run out!
Summerize- Check or replace AC filters, window screens, and household fans to make sure these are all functioning and will help provide maximum circulation in your house. Consider installing an attic fan or vent to help pull heat out of your home all winter long. Pack away excess cold weather items such as heavy blankets, jackets, and other items so they aren't in your way. Same goes for any sundry items you only use during fall and winter.
Inside Spaces
Lighten the Space- Though I likely won't spend much time inside once the mercury rises, I want to keep the house as light and cool as possible. I have found that replacing the curtains with a lighter shade lets the light in, but also keeps the rooms from overheating from sun exposure. Summer always makes me want to lighten up with the accessories- lighter colors, more whites, bright accents and less clutter.
Rearrange – Freshen up spaces by rearranging some of your wall art. If you don't have enough wall pieces to rearrange regularly it may be time to add to your collection. You can find inexpensive original art online at stores such as Etsy or in person at local galleries. You can always play with other items like framed images from books, vintage posters or record albums. Here are some terrific ideas for using what you have to add interest to a room.
Air it out- Open all the windows, shake out the rugs and update home fragrances to fit summer moods (citrus, freesia, clean linen, coconut, melon, fruits and tropical, etc.). You can create your own diffuser with essential oils to distribute fragrance. This may be more symbolic than practical but it always makes me feel ready for summer.
Paint- If you have a room you really want to refresh, a three-day weekend is a good time to take on a project of scale, so you have plenty of time to prep, paint, dry, and clean up. Painting is one of the least expensive ways to really transform how a room feels. Need help picking colors and paint type? Here is some good advice.
Garage or Basement- Tackle a big space that makes a big difference. Our garages and basements often become year-long dumping grounds for seasonal decorations and clothing, items that don't fit in cabinets, memorabilia and maintenance tools. Go through your items and sort by keep, throw out and donate/sell and then group your keeps by function. Make sure your tools are accessible for easy gardening and entertaining by making sure your tools are accounted for, ready to go, and easy to reach. Here is a useful video on garage organization.
Yard/Garage Sale- If you have overflow at your house, plan a yard/garage sale to get rid of items you no longer need or want. Just make sure to pack everything up and donate it at the end of the sale otherwise you are just letting the clutter back in!
Plan a party- Once your space is all cleaned up and redecorated you will want to show it off! Plan a summer BBQ, dinner party, pool party, picnic or any other gathering.