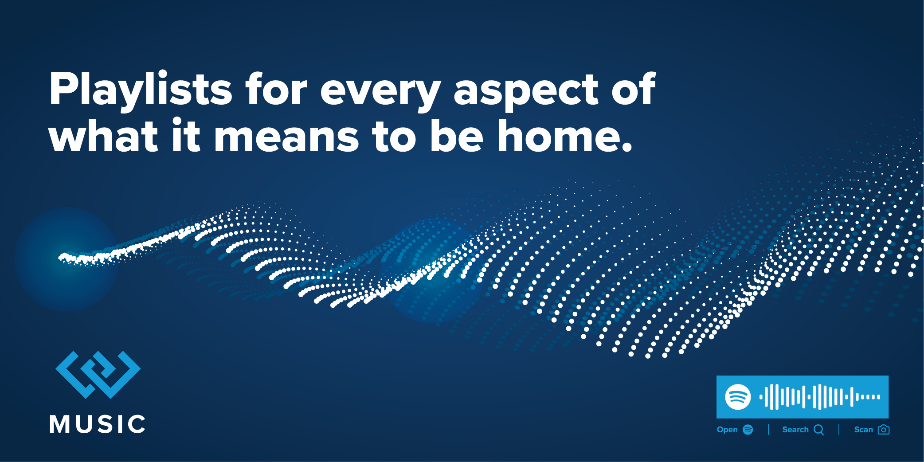 Americans spend about 32 hours a week listening to music, and for Millennials that number is even higher. Since so many activities connected to our homes are enhanced by music, we want to fuel the joy and memories of those experiences through home-inspired playlists on our very own Spotify channel.
Check out Windermere's new Spotify channel where you can find playlists for every aspect of what it means to be home. Cleaning house? Check. Hosting a dinner party? Check. Chilling on the front porch? We have tunes for that too, and more. We invite you to follow, share, and enjoy!
Start following the Windermere Spotify channel today!

Posted on October 3, 2020 at 4:00 pm
Windermere Evergreen
Category:

Blog, Community, Living, Windermere Real Estate
Tagged

32 Hours, Experiences, Home-Inspired, Joy, Memories, millennials, Music, Playlists, Spotify Windermere Channel, Tunes
LinkedIn recently told us that 4,279 new apartments were added to Seattle's local inventory last year, and based on the number of cranes you constantly see around the city, we believe them. With so many choices, Millennials are getting really specific about what they want in a living space and the lifestyle it provides them. Here are some of the amenities we're told that Millennials have come to want, and in some cases, expect:
1.  Parking & Electric Car Charging Stations
2.  High Speed Internet and WIFI (around the entire building). Preferably free WIFI on the first floor
3.  State of the Art Fitness Center  –  Fitness centers not only act as a place for exercise, but now a place to casually socialize and build friendships.  For instance, when a developer integrates fitness classes into the gym, they are creating a space where tenants can connect with their building community.
4. Dog Grooming/Washing Facility & Outdoor Pet Run:  As many millennials are postponing starting a family to focus more on their career, their pets are like their children.  With that said, an apartment building that doesn't allow their fury friends will ultimately be losing out on a big portion of the millennial pie.
5. High- Tech Control Automation:  Using smart technology to control your thermostat, lights, switches, sensors, and locks while you are away.
6.  Business Center/ Work From Home Space:   With remote work becoming an increasing popular trend, the potential ways of catering to work-at-home tenants are limitless.
7. Laundry Facility/Service and Dry-Cleaning Drop Off/Pick Up- Laundry is a hassle, and most renters want the burden of doing laundry to be, well, less burdensome. Programs like "Laundry View" are used in some apartment buildings to view how many washers and dryers are in use. It will also send you text alerts when your laundry is done.
Read the full article on LinkedIn.
For more information on Windermere Evergreen please contact us here.