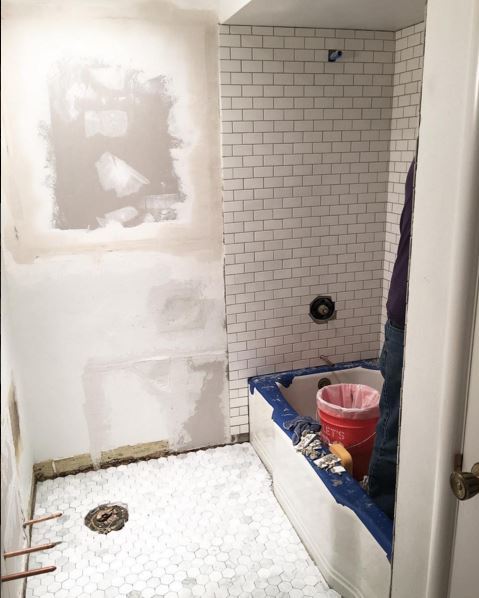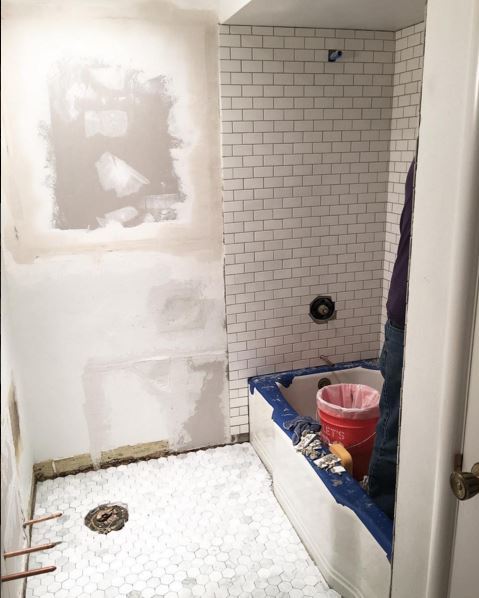 A brief update on our progress thus far and a few reflections on buying a Seattle fixer:
Lows:
The amount of Ibuprofen.  The reality is renovations take a lot of hard, back-breaking work.  Our home was built in the early 1940s and the walls are mostly plaster which is pretty difficult to work with (demo, drill, repair, etc.)  We are saving a lot of money by doing the work ourselves but it makes sense why people sometimes choose to hire this work out.
Time runs out quickly.  Every day we have a plan for the renovations and we complete about 70% of those goals.  You see the progress you're making but you battle the feeling that you're not getting anywhere.
Dirty all the time.  We are caked in caulk and grout.  Our house is dusty and disorganized (and we haven't even moved in!)
Nothing is free.  It cost $120 to get rid of the 2,000lbs of house debris and lawn gnomes. Plaster is heavy.  Gnomes are heavier.
Highs:
Getting exactly what we want.  From fixtures to grout color, this bathroom is 100% what we envisioned.  It's also a small step up from the linoleum, orange formica countertop and stained glass bear window. (#savethebear)
Quality of output.  My father and I hand-polished every single hexagon tile on our floor after we spread the grout last night.  When it's your home and you're the one putting in the work, you take the time to do it right.
Bonding with the people you're working alongside.  I learned that my dad was drafted into the Vietnam war while he was dating my mom but the request was recalled as the war dwindled.  I watched my wife balance our baby on her hip while putting her whole weight into every piece of laid tile.  The four of us have spent at least 40 hours together in that tiny bathroom and we're closer because of it.
For more information on our Windermere Evergreen team please contact us here.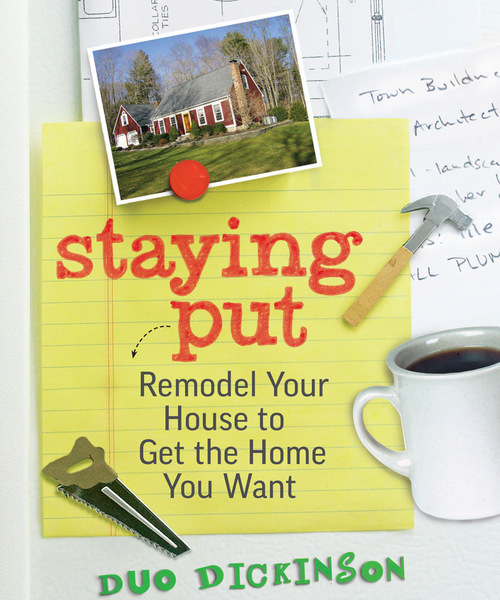 Here's an architecture book for our times, when some homeowners are under water on mortgages, and the cycle of trading up has either stopped or slowed way, way down. In "Staying Put," architect and writer Duo Dickinson has assembled a terrific and practical guide to help us make real improvements to our homes. Dickinson, an advocate of well-designed and affordable homes for all, has specialized in residential design for more than three decades.
This is not your typical architect's book about design. There's no obscure language nor design-for-design's-sake ideas. It is a practical, down-to-earth guide that walks anyone through the rational process of how to remodel your house to get the home you want, from how to think about your house and overcoming hurdles to a list of "Duo's Do's and Don'ts" for the homeowner. Along the way, there's plenty of nice before-and-after photos to help explain the points. Do read the book. You'll be glad you did.
Staying Put 1: The Taunton Press Inc, original photo on Houzz
The cover says it all. The ubiquitous photo of a gorgeous, award-winning home that's beyond most of us is replaced with images of a saw, cup of morning joe and a to-do list.
Are you staying put yourself? Read on for 8 of Dickinson's suggestions.
Consider the compass points. The tips and illustrated examples are wonderfully straightforward. For example, we see a house that gets overheated, the siding degrades and the front door bakes in the sun because it all faces south.
Dickinson's common-sense advice: Rework the front of the house with a new wide porch that shades the front door and some smaller, yet well-sized windows to create a lot more curb appeal while reducing maintenance and energy consumption. It's a triple win: more beauty and comfort with less cost.
Avoid gutters. Statements such as "gutters and leaders are devoutly to be avoided" may sound like heresy to many, but certainly are the truth. Proving his point, Dickinson illustrates how a properly-built roof overhang can shed all the water it must without the complications, such as ice dams, caused by gutters.
Embrace small moves. Dickinson provides a wealth of simple solutions illustrated with before-and-after photos. He shows how to use small moves for big dividends, such as taking out a wall between a kitchen and a hallway to make room for more kitchen storage.
Enhance curb appeal. The book offers solutions to common problems with a particular style, such as how to improve and enhance an entrance into a split-level home.
Open up to the outside. Dickinson provides some excellent examples of how we can use modern windows and doors to strengthen the connection between inside and outside. Our homes, says Dickinson, no longer need be "later-day caves."
Find your home. Learning more about the style of the house you have will help you avoid obstacles in remodeling and recognize the best opportunities for improving your particular home.
Open up the inside. Snippets of advice sprinkled throughout the book are like refreshing raindrops that clear the cobwebs away. One such snippet: "If you walk through a room to get to a room, something is wrong." You know — it's when that new great room gets added onto a modest house, and the result is some kind of dyslexic creature that's really two houses rather than one.
So rather than even building an addition, Dickinson suggests you make the most of what you already have. In this example, widening the opening between rooms strengthens this room's connection with the rest of the home, increasing its utility and spaciousness.
Work with what you've got (before): Keeping the kitchen size the same while vaulting the ceiling dramatically increases the overall spaciousness of the room, as you'll see in the next photo.
Work with what you've got (after): Walls, doors, appliances and even the skylight and kitchen sink were all left where they were. This all avoided costly plumbing, electrical and mechanical work and rework.
Working with what you've got (plans): Dickinson has included before-and-after floor plans for many of the examples. These plans help provide that much more context, allowing the reader to better understand what they may be able to do with the home they already have.
By Bud Dietrich AIA, Houzz
For more information on Windermere Evergreen please contact us here.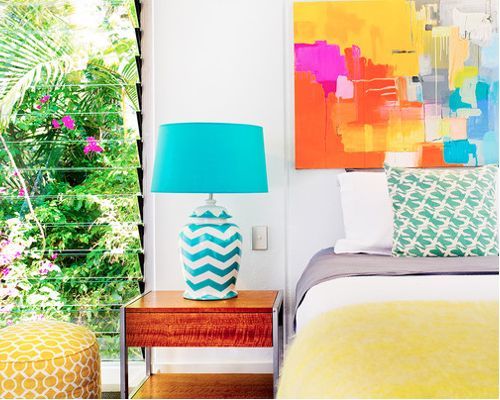 Bright hues are eye catching, confident and cheering — so if winter's got you feeling less than energized, why not tap into the power of bright colors to lift your spirits and your decor? Read on for 10 reasons to give bright, zesty hues a try in your home this winter.
1. Bright hues help with the whole rising and shining thing. Zingy brights are like caffeine for your space. If you've been dragging on these dark winter mornings, perhaps a colorful bedroom makeover would help things along. Artwork, pillows and a throw can be easily swapped out now, and again when you feel like a change.
2. Bright hues are playful. Lighten the mood at home with fun, colorful pieces, like the oversize geometric artwork and bright blue vintage rug shown in this space. Colors this bold are packed with personality and perfect in spaces where you host parties or play with your kids.
3. Bright hues are a winter palette cleanser. Been feeling oversaturated by red, green and woodsy decor? Acid brights can act as a refreshing palette cleanser. Clear away the holiday decor and start fresh with a clean, crisp pairing of white and brights.
4. Bright hues are mood boosters. Bright, bold colors are undeniably cheerful. Even if you typically shy away from bright hues, consider making an exception in the winter. The infusion of color can be a great pick-me-up!
5. Bright hues are gutsy. Claim your space and make a statement with a big decorating move, like bold wallpaper or a bright, graphic rug. Bright hues exude confidence — perfect when you are looking to make a fresh start in your life.
6. Bright hues offer contrast to the gray outdoors. Dismal weather got you down? Cheer up your foyer with sunshine yellow. Spaces with large windows can also become a bit of a downer when the skies are cloudy — refresh a living room or kitchen with sunshiny hues to counteract the gloom.
7. Bright hues bring a dash of romance. From the shiny red of London buses to the bright turquoise of a zippy Italian scooter, the colors of a place are often one of the most memorable parts of traveling. Bring back a bit of the romance of your favorite destinations with a collection of colorful travel photos on the wall. Or pick up colors from your most cherished places in smaller doses — like bright buttons on a dapper gray armchair.
8. Bright hues can help you feel more productive. Give your home workspace a jolt to keep yourself sharp and focused. Try a brightly hued desk chair or filing cabinet, or arrange your bookshelves in rainbow order. Even a vase of bright blooms and a new pen cup on the desk can do the trick!
Related: Outfit Your Workspace With Stylish Office Furniture
9. Bright hues wake up winter white. If your winter decorating scheme tends towards pure wintry whites and subtle glints of metallic hues, consider punching things up with a bright accent or two. In the space shown here, a cluster of pillows and a glamorous chandelier dripping in turquoise beads transforms a plain landing into a jaw-dropping one.
10. Bright hues give you a taste of spring when you need it most. Why wait for the first daffodils, when you can have a wonderfully bright yellow door right now? Stop trudging through winter waiting for spring, and treat yourself to springy colors today.
By Laura Gaskill, Houzz
For more information on Windermere Evergreen please contact us here.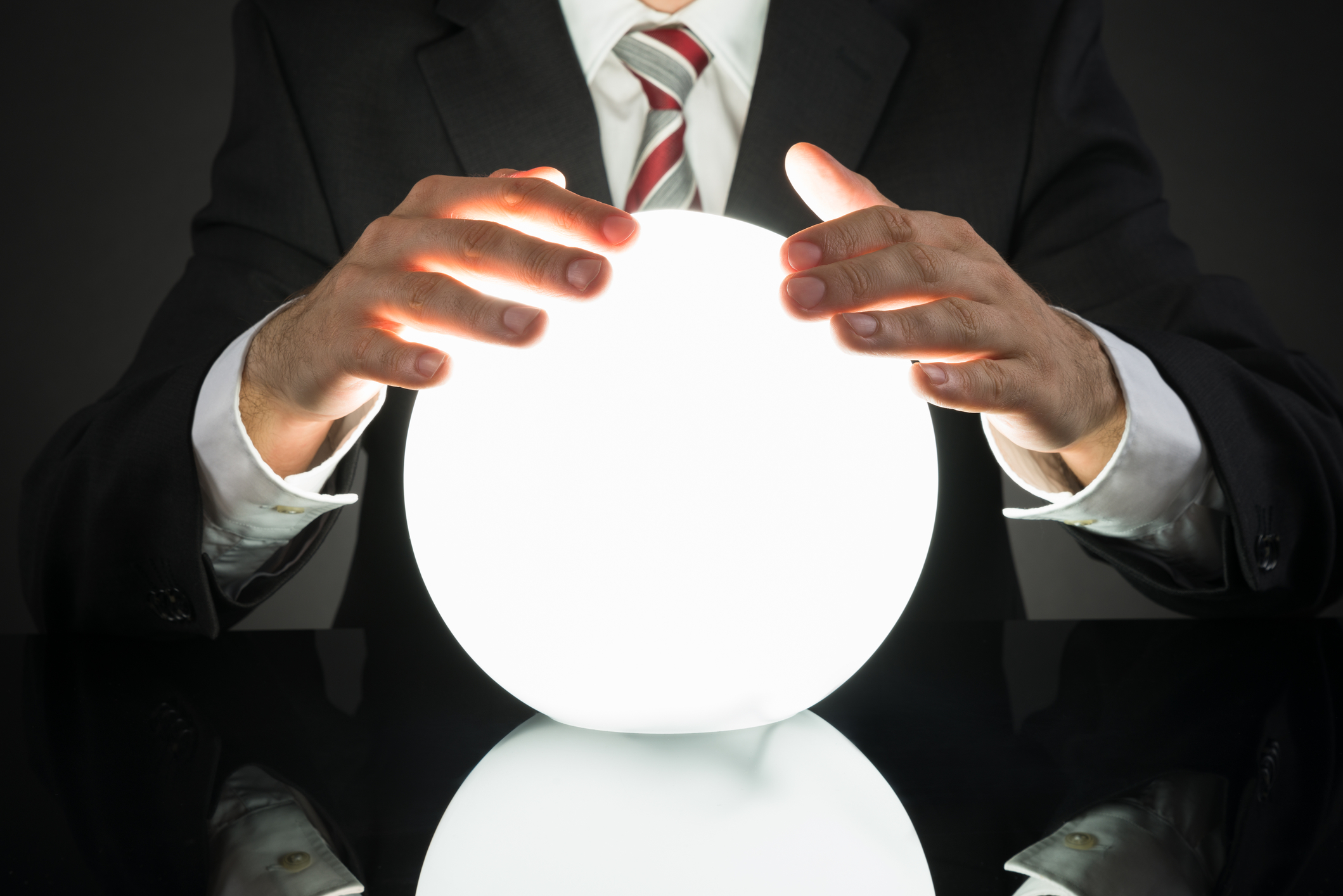 It's the time of the year when I look deep into my crystal ball to see what's on the horizon for the upcoming year. As we are all aware, 2017 has been a stellar year for housing across the country, but can we expect that to continue in 2018?
Here are my thoughts:
Millennial Home Buyers
Last year, I predicted that the big story for 2017 would be millennial home buyers and it appears I was a little too bullish. To date, first-time buyers have made up 34% of all home purchases this year – still below the 40% that is expected in a normalized market.  Although they are buying, it is not across all regions of the country, but rather in less expensive markets such as North Dakota, Ohio, and Maryland.
For the coming year, I believe the number of millennial buyers will expand further and be one of the biggest influencers in the U.S. housing market. I also believe that they will begin buying in more expensive markets. That's because millennials are getting older and further into their careers, enabling them to save more money and raise their credit profiles.
Existing Home Sales
As far as existing home sales are concerned, in 2018 we should expect a reasonable increase of 3.7% – or 5.62 million housing units. In many areas, demand will continue to exceed supply, but a slight increase in inventory will help take some heat off the market. Because of this, home prices are likely to rise but by a more modest 4.4%.
New Home Sales
New home sales in 2018 should rise by around 8% to 655,000 units, with prices increasing by 4.1%. While housing starts – and therefore sales – will rise next year, they will still remain well below the long-term average due to escalating land, labor, materials, and regulatory costs. I do hold out hope that home builders will be able to help meet the high demand we're expecting from first-time buyers, but in many markets it's very difficult for them to do so due to rising construction costs.
Interest Rates
Interest rates continue to baffle forecasters. The anticipated rise that many of us have been predicting for several years has yet to materialize. As it stands right now, my forecast for 2018 is for interest rates to rise modestly to an average of 4.4% for a conventional 30-year fixed-rate mortgage – still remarkably low when compared to historic averages.
Tax Reform
Something that has the potential to have a major impact on housing are the current proposals relative to tax reform. As I write this, we know that both the House and Senate propose doubling the standard deduction, and the House plans to lower the mortgage interest deduction from $1,000,000 to $500,000. If passed, the mortgage deduction would no longer have value for home owners who would likely opt to take the standard deduction.
If either of the current proposals is adopted into law, the potential reduction in mortgage-related tax savings means the after-tax cost of home ownership will increase for most home owners. Additionally, both the House and Senate bills also end tax benefits for interest on second homes, and this could have a devastating effect in areas with higher concentrations of second homes.
The capping of the deduction for state and local property taxes (SALT) at $10,000 will also negatively impact states with high property taxes, such as California, Connecticut, and New York. Furthermore, proposed changes to the capital gains exemption on profits from the sale of a home (requiring five years of continuous residence as compared to the current two) could impact approximately 750,000 home sellers a year and slow the growth of home ownership.
Something else to consider is that all of the aforementioned changes will only affect new home purchases, which I fear might become a deterrent for current home owners to sell. Given the severe shortage of homes for sale in a number of markets across the country, this could serve to exacerbate an already-persistent problem.
Housing Bubble
I continue to be concerned about housing affordability. Home prices have been rising across much of the country at unsustainable rates, and although I still contend that we are not in "bubble" territory, it does represent a substantial impediment to the long-term health of the housing market. But if home price growth begins to taper, as I predict it will in 2018, that should provide some relief in many markets where there are concerns about a housing bubble.
In summary, along with slowing home price growth, there should be a modest improvement in the number of homes for sale in 2018, and the total home sales will be higher than 2017. First-time buyers will continue to play a substantial role in the nation's housing market, but their influence may be limited depending on where the government lands on tax reform.
by Matthew Gardner, Chief Economist, Windermere Real Estate
For more information on Windermere Evergreen please contact us here.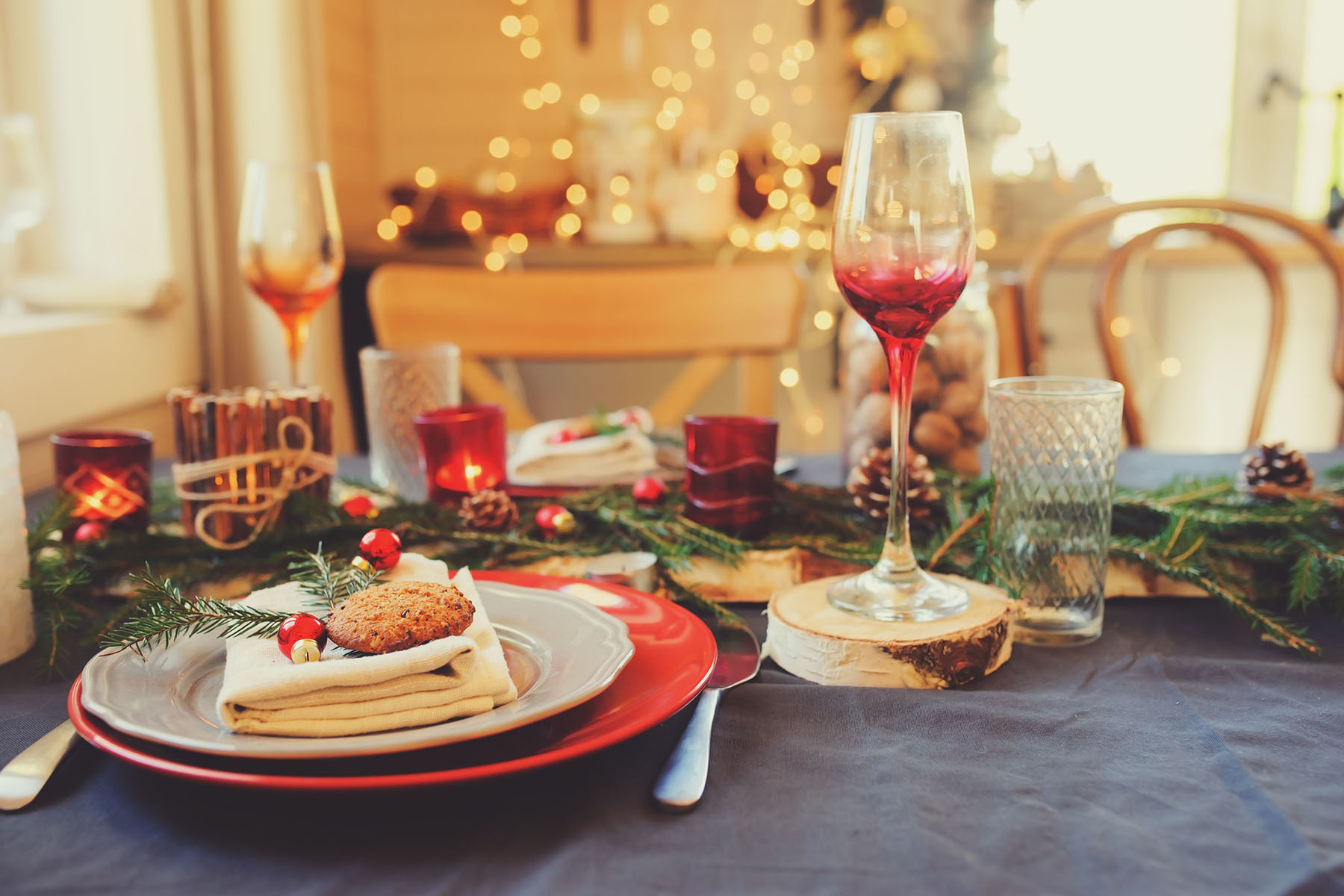 A few tricks used by professional home stagers can make your home holiday-guest-ready, even if you're preparing for a visit from your in-laws, not potential buyers.
While friends and family might be more forgiving than a home-shopper would be, you'll still want to create a clean and uncluttered atmosphere for making holiday memories. A major difference is, for friends and family, you don't need to depersonalize. Tastefully placed photographs and kids' hand-made masterpieces can help make a house a home, after all.
But you do want to make your place look and smell clean, and you might even want to evoke a sense of holiday magic and warmth. Michele Graham, a Long & Foster regional administrator and accredited home stager who works with agents in the greater Philadelphia area, offered these tips:
Cleanliness first. Make bathrooms sparkle and shine, since these are rooms every guest will probably see. Add fresh cut greens on top of the window treatments, and set out festive holiday hand towels or napkins. Keep small caddies of cleaning supplies in the bathroom and kitchen, or at least on each level of the home, to make clean-ups faster. In the kitchen, run a piece of fresh lemon through the garbage disposal and wipe off the splash guard, which can collect grime.
Clip an automobile air freshener to your shower curtain in a hidden spot to keep the bathrooms smelling good. You can use dryer sheets to do a quick dust job or polish up chrome faucets. Baby oil will make stainless steel appliances shine.
Add sparkle. Put something shiny in every room, whether it's mirrors, mercury glass, silver or gold candlesticks, picture frames, or a string of white lights. The light will bounce off eye-catching shiny and metallic surfaces.
Bring in some green. Liven up your mantle or table with evergreen branches, holly boughs with berries, dogwood, and other décor provided by nature. You might find the perfect accents right in your own backyard.
Layer and add depth. A few silver and gold accessories add formality, while plaids and burlap are more casual. Embrace the palette of the season, with its gray sky, snow and evergreens. Even after the holidays, you can use white and silver accents around the house. You can add a pop of color using throw blankets and pillows.
Festive curb appeal. Greet your guests upon their arrival with window boxes filled with fresh-cut greens or even fake ones. Holly branches, pine cones and shiny round Christmas ornaments catch the eye.
Graham said you don't have to spend a lot of money to get your home ready for the holidays. Most of the items she recommends can be found at dollar stores and thrift shops.
And one of the best ways to brighten your space is free. "Keep your window treatments open to let in as much natural light as possible," Graham said. "It will add a wonderful glow to accent your décor."
For more information on Windermere Evergreen please contact us here.