Posted in Living by John Trupin
The calendar may claim summer begins on June 21st, but for most of us, it's already fully in gear. Kids are getting out of school, families are making summer vacation plans, and backyard barbeques are on everyone's minds. This is also a great time of the year to get your house in order and ready for the summer season. The following are a handful of ideas and tips to help you with this process.
Outdoor Spaces
Gardening– It's not too late to start your garden!  If you're thinking of getting your green thumb engaged, just make sure you use starts because many summer harvest vegetables won't start from seed this late in the season.
Outdoor living– My home has an outdoor space that, like many, suffers in the grey of winter and the rainy spring. To get it properly in the summer spirit I need to get it prepped for hosting. This includes finding outdoor lighting options, updating the seating and cleaning up the barbeque.
BBQ- Make sure your grill is ready to go this season by making sure everything is clean and in working order before you fire it up. In the northwest that includes making sure the fuel lines are spider-web-free. Also, make sure you have propane or charcoal on hand for impromptu dinners.
Clean Windows- Now is a great time to clean your windows, inside and out. Sun shows more dirt and smudges.
Lawn care- Prepare your lawn for the months ahead. Depending on where you live this means different things. Check your sprinkler system to make sure it wasn't damaged over the winter; upgrade your lawn care to ensure fuller greens, check for and remove moss to prevent dead patches and start your weeding regimen.
Pool prep- If you have an outdoor pool get this ready for a summer season of fun in the sun, (unless you are lucky enough to enjoy your pool year-round). Same goes for hot-tubs. Make sure your equipment has been serviced, chemicals are available and your pool is clean and ready to use. OR, head to the local hardware store and buy your kiddie pool now before they run out!
Summerize- Check or replace AC filters, window screens, and household fans to make sure these are all functioning and will help provide maximum circulation in your house. Consider installing an attic fan or vent to help pull heat out of your home all winter long. Pack away excess cold weather items such as heavy blankets, jackets, and other items so they aren't in your way. Same goes for any sundry items you only use during fall and winter.
Inside Spaces
Lighten the Space- Though I likely won't spend much time inside once the mercury rises, I want to keep the house as light and cool as possible. I have found that replacing the curtains with a lighter shade lets the light in, but also keeps the rooms from overheating from sun exposure. Summer always makes me want to lighten up with the accessories- lighter colors, more whites, bright accents and less clutter.
Rearrange – Freshen up spaces by rearranging some of your wall art. If you don't have enough wall pieces to rearrange regularly it may be time to add to your collection. You can find inexpensive original art online at stores such as Etsy or in person at local galleries. You can always play with other items like framed images from books, vintage posters or record albums. Here are some terrific ideas for using what you have to add interest to a room.
Air it out- Open all the windows, shake out the rugs and update home fragrances to fit summer moods (citrus, freesia, clean linen, coconut, melon, fruits and tropical, etc.). You can create your own diffuser with essential oils to distribute fragrance. This may be more symbolic than practical but it always makes me feel ready for summer.
Paint- If you have a room you really want to refresh, a three-day weekend is a good time to take on a project of scale, so you have plenty of time to prep, paint, dry, and clean up. Painting is one of the least expensive ways to really transform how a room feels. Need help picking colors and paint type? Here is some good advice.
Garage or Basement- Tackle a big space that makes a big difference. Our garages and basements often become year-long dumping grounds for seasonal decorations and clothing, items that don't fit in cabinets, memorabilia and maintenance tools. Go through your items and sort by keep, throw out and donate/sell and then group your keeps by function. Make sure your tools are accessible for easy gardening and entertaining by making sure your tools are accounted for, ready to go, and easy to reach. Here is a useful video on garage organization.
Yard/Garage Sale- If you have overflow at your house, plan a yard/garage sale to get rid of items you no longer need or want. Just make sure to pack everything up and donate it at the end of the sale otherwise you are just letting the clutter back in!
Plan a party- Once your space is all cleaned up and redecorated you will want to show it off! Plan a summer BBQ, dinner party, pool party, picnic or any other gathering.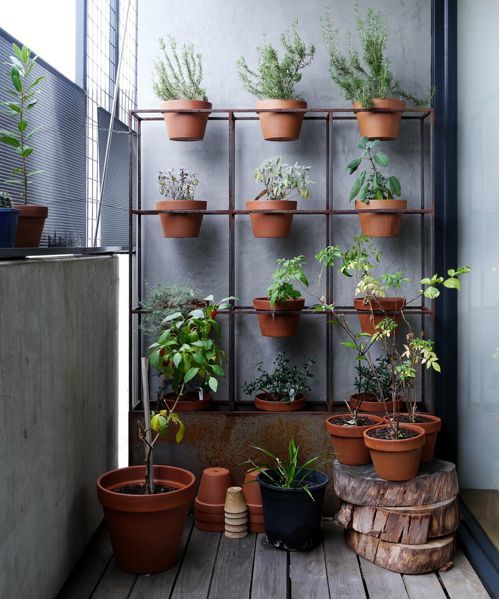 Temperatures may be dropping, but that doesn't mean we have to bid farewell to our herb gardens. Cold-hardy herbs, such as chives, mint, oregano, parsley, sage and thyme, can often survive cold-winter temperatures while continuing to produce flavorful foliage, as long as they are provided with some protection or grown indoors. Even herbs like rosemary that are more cold-sensitive can survive winter using additional methods of protection. Let's explore different ways we can prolong the herb harvest and enjoy the fresh taste of our favorite herbs throughout the cold of winter.
1. Protect herbs from the cold by placing them in a cold frame or cloche. Covering herbs helps trap the heat that rises from the soil, elevating the temperature inside by several degrees. This can extend the growing season in both fall and spring.
Cold frames are topped with glass panes that slope downward and are situated so they face south. This ensures that the most sunlight will reach the plants inside, creating an environment that is several degrees warmer than outside.
Cloches are a smaller and more portable way to protect plants from the cold. Traditional ones are bell-shaped and made from glass. They can be expensive, but you can make your own by cutting off the bottom of a 1-gallon plastic milk jug or other large plastic container. Place each one over individual herb plants and nestle the bottom inch or two of the cloche into the soil to anchor it.
2. Add a thick layer of coarse mulch over herbs. Many herbs can grow through the winter under the insulation provided from straw, shredded bark or other coarse mulch. In areas that experience moderate-winter cold, USDA Zone 6 and warmer, herbs will continue to produce some new growth despite some winter cold. Simply pull back the mulch and cut the herbs you need, then cover them back up. While they won't produce as much new growth as they do in the warm season, you should be able to obtain a small harvest. Don't worry if a layer of snow falls, as it will provide additional insulation for the herbs below. Once spring arrives, you can turn the mulch into the soil.
3. Pot up herbs and move them into a frost-free greenhouse or sun porch. If you're growing herbs in the ground, you can transfer them to pots and move them to a protected spot. Select the herbs you want to keep growing over winter, such as chives, oregano, sage and thyme. Cut them back to 1 inch tall and, using a sharp shovel, divide them at their base, making sure to include the roots so each one will fit into the container. Use well-draining planting mix in the containers and plant each herb in a separate pot. They will grow back and you'll be able to harvest their flavorful leaves until you transplant them back into the garden once spring arrives.
4. Grow herbs in front of a sunny window. Herbs can be grown from seed or cuttings and make a great addition to a sunny kitchen window that gets at least six hours of sunlight. If using artificial lighting, 14 hours is usually sufficient. The temperature should range between 60 and 70 degrees Fahrenheit, or 15.6 and 21.1 degrees Celsius, for best results. You can transplant herbs from the garden or begin from scratch by sowing seed.
The rewards of growing herbs indoors throughout the winter are great when the fresh flavor of summer is within arm's reach. Chives, oregano, parsley and thyme are just a few of the easiest herbs to grow on a sunny windowsill. Use a well-draining planting mix in your container. Water deeply when the top inch of soil is almost completely dry.
5. Extend the life of fresh herbs by putting them in water. Herbs such as basil and mint grow quickly when placed in a container of water for a few weeks. Other herbs that work well in water are sage, oregano and thyme. When placed in water, they begin to produce roots and will grow new leaves. This is a useful way to prolong the harvest, whether you bring in cuttings from the garden or buy fresh herbs at the grocery store.
The process is easy. Simply cut the ends of each stem and put them in a small jar or cup filled with water. Be sure to remove any lower leaves so they won't be submerged in the water. Place on a sunny windowsill.
The leaves produced indoors will be thinner and slightly less flavorful than those grown outdoors but will still add welcome flavor to your favorite dishes. Refill the water as needed and enjoy the prolonged harvest for several weeks to come.
Related: Elevate Plants to Reach Sunny Windows With These Plant Stands
By Noelle Johnson, Houzz
For more information on Windermere Real Estate please contact us here.