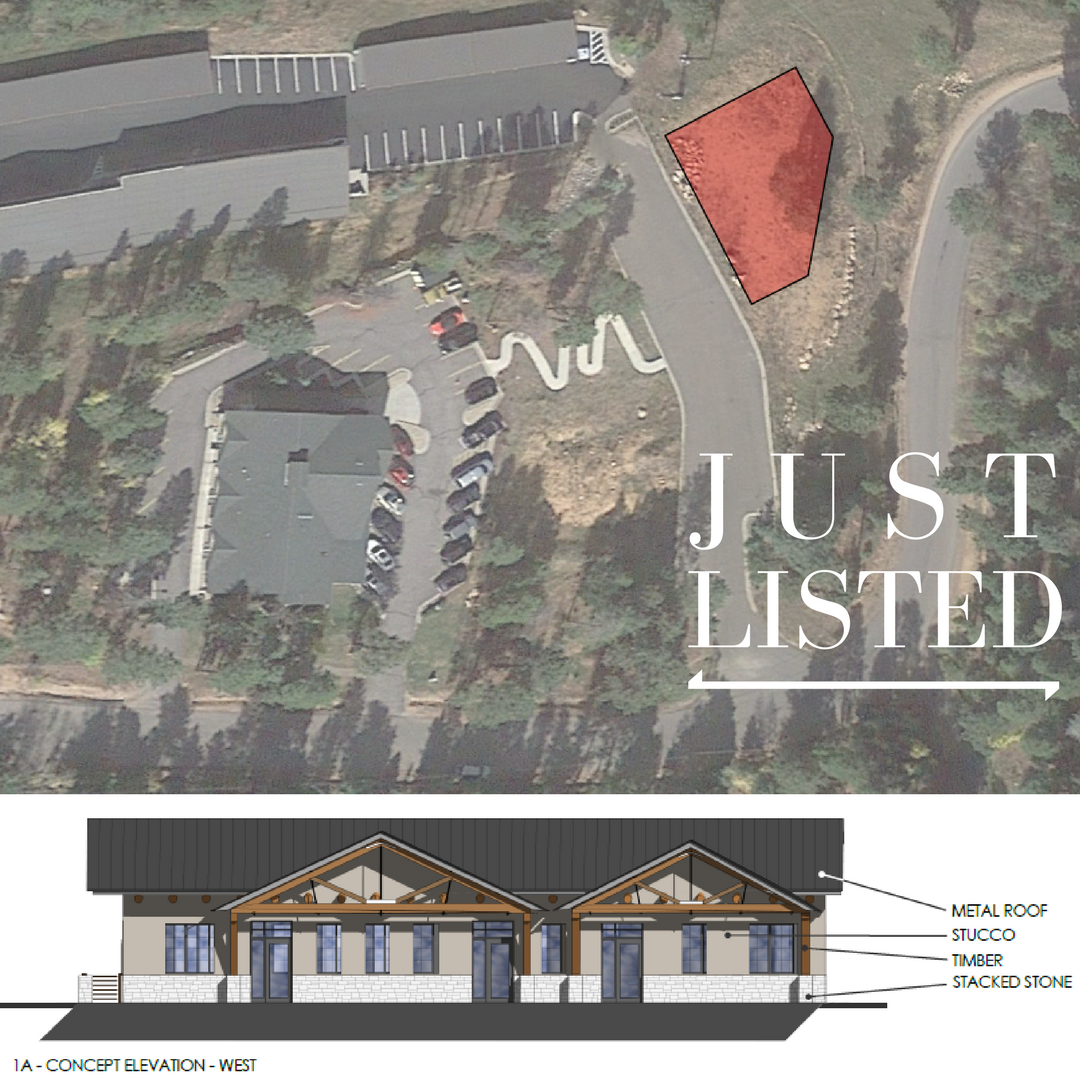 Site approved for an Office Building with 9545 square feet of office space and
2115 square feet of common space. This commercial property represents a
unique owner/investment opportunity for a variety of business, professional or
service uses. Subject property is centrally located behind Staples Shopping
Center in Conifer with easy access to and from Highway 285. Highway 285 is
the primary route from the C-470 and the Greater Denver area to the mountain
areas serving residential, commuter and tourist traffic. Current land use along
Highway 285 serves as a commercial corridor for the surrounding communities
For more information, please visit the listings website.
You may also call Holly Roberts at (410)698-2617.
Posted on February 2, 2018 at 7:01 pm
Windermere Evergreen
Category:
Evergreen Real Estate
Tagged

building, buyer, colorado, commercial owner, conifer, investment opportunity, land, lot, real estate, realtor, seller
Owning a home has been an American tradition from the start. But the home itself has changed dramatically over the years.
For example, you may be surprised to learn how much the size of the average American home has increased since the turn of the 20th century—especially when you compare it to the size of the average family during the same time period.
In the year 1900, the average American family was relatively large with 4.6 members, but the average home featured just 1,000 square feet of usable floor space. By 1979, family size had shrunk to 3.11 members, but the floor space they shared had expanded to 1,660 square feet. And by 2007, the average family size was even smaller still—just 2.6 members—while the average home size had increased by the largest amount yet—this time to 2,521 square feet.
To accommodate those larger homes, property lots have also had to expand in size. In the 1930s and '40s, Bungalow homeswere usually built on lots measuring 60 by 100 feet (for a total of 6,000 square feet). However, by 1976, the average size of a single-family property lot had expanded to more than 10,000 square feet. In 1990, it expanded again (to 14,680 square feet). Today, the average property lot in America is a staggering 17,590 square feet.
Exterior building materials
Until the 1960s, the building materials used on the exterior of most homes were limited to brick, wood, or wood shingles. However, by the early 1960s, many Americans chose to cover their homes with a more affordable material that was also maintenance-free: aluminum and vinyl siding. Today, many homeowners are using low-maintenance siding materials made of cement fiber.
Interior building materials
The primary building material for interior ceilings and walls for much of the 20th century was plaster applied over wood lathe. Modern day sheetrock didn't become popular until the 1950s. In the 1960s, wood paneling and textured walls became prevalent, largely for their quick and easy application. In the 1970s and '80s, "popcorn ceilings" became a common way to hide imperfections in ceilings. Today's style again favors smooth walls and ceilings, which can result in a lot of work removing paneling and textures in older homes.
Throughout the early 1900s, the floors throughout most homes were almost always bare wood. Linoleum tile became a popular choice for kitchens, bathrooms, and bedrooms in the 1940s. However, by the 1960s and 1970s, wall-to-wall carpeting was all the rage—even in bathrooms and some kitchens. Homes today feature a wide array of flooring materials, depending on both the region and the room's function. For example, tiles are a more popular choice in warm regions than cold ones because they tend to stay cool; wall-to-wall carpeting is still popular in rooms like bedrooms and family rooms, where people like to feel most comfortable, while durable and easy-to-clean hardwoods, tiles and linoleum are more favorable in kitchens and high-traffic areas.
The Kitchen
At the turn of the 20th century, the kitchen was a place where the woman of the house did all the cooking. Kitchens were typically small, closed off from the rest of the house by solid walls, and far more functional than fashionable. Dining took place in the dining room.
Throughout the 1920s and '30s, kitchens remained stark workplaces with very few appliances. Food was kept chilled with an icebox (a non-electric, insulated box about the same size as a modern refrigerator that used a block of ice to keep everything cold). However, by 1944, 85 percent of American households had switched from an icebox to a refrigerator.
In the mid 1950s, the kitchen changed dramatically. It not only became larger, it also transformed into the heart of the home, where the whole family gathered to help prepare and even eat meals.
The 1950s also brought a host of kitchen innovations, from the stainless steel sink to electric ovens and stovetops. But the most exciting of all was the dishwasher. The 1970s marked the introduction of the microwave.
Today, the kitchen is still a place where everyone gathers. So it's not surprising that may people favor open-concept kitchens, with no walls separating them from the dining or family room.
Appliance and amenities
The 1940s census was the first to ask homeowners about some of the amenities in their homes. The results are startling (though perhaps less so when you consider that this was during the depression): Less than 50 percent of homes had hot water, an indoor toilet or a bath tub; about one in five didn't have a home phone.
By the 1950s, however, things had changed dramatically for the better. That's when many Americans got a refrigerator, an electric stove, a dishwasher, and, ah yes, air conditioning. Until then, most homes were cooled with nothing more than a ceiling fan at best.
Thanks to the larger, Ranch-style homes being constructing in the 1950s, walk-in closets also made their introduction. The fabulous '50s also ushered in the two-car attached garage.
And let's not forget the television; it exploded onto the scene in the early 1950s and by 1955, half of all U.S. households had sets. Today, the average home has little less than three TVs.
What hasn't changed
Despite all these changes, one thing has remained the same: The number one reason why Americans chose to buy a home. According to Dan McCue, research manager at Harvard's Joint Center for Housing Studies, "It's always been seen as the best way to build net worth and equity."
Adding on to your current home may be your best bet if you're short on space, but you don't want to move or can't find another house in the area with all the qualities you're seeking. It's also an attractive option if the house you have is lacking just one significant element (a family room, another bedroom, a larger kitchen, a separate apartment, etc.).
On the other hand, even a modest addition can turn into a major construction project, with architects and contractors to manage, construction workers traipsing through your home, hammers pounding, and sawdust everywhere. And although new additions can be a very good investment, the cost per-square-foot is typically more than building a new home, and much more than buying a larger existing home.
Define your needs
To determine if an addition makes sense for your particular situation, start by defining exactly what it is you want and need. By focusing on core needs, you won't get carried away with a wish list that can push the project out of reach financially.
If it's a matter of needing more space, be specific. For example, instead of just jotting down "more kitchen space," figure out just how much more space is going to make the difference, e.g., "150 square feet of floor space and six additional feet of counter space."
If the addition will be for aging parents, consult with their doctors or an age-in-place expert to define exactly what they'll require for living conditions, both now and over the next five to ten years.
Types of additions
Bump-out addition—"Bumping out" one of more walls to make a first floor room slightly larger is something most homeowners think about at one time or another. However, when you consider the work required, and the limited amount of space created, it often figures to be one of your most expensive approaches.
First floor addition—Adding a whole new room (or rooms) to the first floor of your home is one of the most common ways to add a family room, apartment or sunroom. But this approach can also take away yard space.
Dormer addition—For homes with steep rooflines, adding an upper floor dormer may be all that's needed to transform an awkward space with limited headroom. The cost is affordable and, when done well, a dormer can also improve the curb-appeal of your house.
Second-story addition—For homes without an upper floor, adding a second story can double the size of the house without reducing surrounding yard space.
Garage addition—Building above the garage is ideal for a space that requires more privacy, such as a rentable apartment, a teen's bedroom, guest bedroom, guest quarters, or a family bonus room.
Permits required
You'll need a building permit to construct an addition—which will require professional blueprints. Your local building department will not only want to make sure that the addition adheres to the latest building codes, but also ensure it isn't too tall for the neighborhood or positioned too close to the property line. Some building departments will also want to ask your neighbors for their input before giving you the go-ahead.
Requirements for a legal apartment
While the idea of having a renter that provides an additional stream of revenue may be enticing, the realities of building and renting a legal add-on apartment can be sobering. Among the things you'll need to consider:
Special permitting—Some communities don't like the idea of "mother-in-law" units and therefore have regulations against it, or zone-approval requirements.
Separate utilities—In many cities, you can't charge a tenant for heat, electricity, and water unless utilities are separated from the rest of the house (and separately controlled by the tenant).
ADU Requirements—When building an "accessory dwelling unit" (the formal name for a second dwelling located on a property where a primary residence already exists), building codes often contain special requirements regarding emergency exists, windows, ceiling height, off-street parking spaces, the location of main entrances, the number of bedrooms, and more.
In addition, renters have special rights while landlords have added responsibilities. You'll need to learn those rights and responsibilities and be prepared to adhere to them.
Average costs
The cost to construct an addition depends on a wide variety of factors, such as the quality of materials used, the laborers doing the work, the type of addition and its size, the age of your house and its current condition. For ballpark purposes, however, you can figure on spending about $200 per square food if your home is located in a more expensive real estate area, or about $100 per food in a lower-priced market.
You might be wondering how much of that money might the project return if you were to sell the home a couple years later? The answer to that question depends on the aforementioned details; but the average "recoup" rate for a family-room addition is typically more than 80 percent.
The bottom line
While you should certainly research the existing-home marketplace before hiring an architect to map out the plans, building an addition onto your current home can be a great way to expand your living quarters, customize your home, and remain in the same neighborhood.
Posted on October 28, 2017 at 7:41 pm
Windermere Evergreen
Category:
Architecture
Tagged

additions, apartment, architecture, building, colorado, homebuyer, homeowners, real estate, realtor, windermere